January 8, 2020
Posted by:

Yomi Olusunle

Categories:

Work, Yomi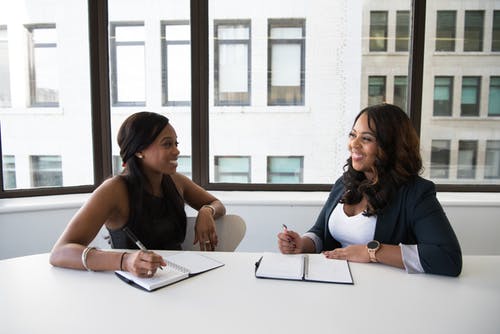 Don't let this year's resolutions be empty promises to yourself.
As one wild year ends, it's time to look forward to the upcoming new year. For many, that means looking for New Year's resolution ideas and setting new goals. But if you're like most people, that also probably means seeing those resolutions fly out the window before Valentine's Day (if you're lucky).
It's great to make resolutions; they're a way for us to look forward to the new year with optimism that is active, rather than passive. It's a proclamation of how you want the new year to be better and how you're going to do it. The problem comes when those resolutions are too generic and impossible to measure.
This year look at your career and set some firm, measurable goals that you can actually track and achieve. Here are 17 workplace goals for the new year that will make it your best work year ever.
Do five things to stay healthier at work
Everyone is concerned about health, and losing weight is one of the most common New Year's resolutions out there. You spend a lot of time at work, so consider what you can do for your health while you're there. Pack a sensible lunch. Take the stairs. Get up and stretch every hour. Test out a standing desk. Switch your office chair for an exercise ball. Think small and you'll find that those little things add up.
Learn a new skill
No matter what field you are in, there are hundreds of new skills you can learn that could benefit your career. Is there one you've been meaning to learn? Set it as one of your work goals for the year and get it done. You won't regret it. If it can enhance your work in your current job, your company might even be willing to pay for it!
Read one career-related or motivational book
Reading does wonders for your mind. No matter your job, there is a book out there that can improve your performance, your outlook, or your personal habits. Even if you think you already know what you need to know, reading a great book on professional development can give you a new perspective.
Update your resume
When is the last time you gave your resume a thorough look-through? Is the style still current? Is the information correct? Make it a work goal for the year to review and edit your resume, even if you don't plan on applying anywhere. It's always best to update your resume periodically before you lose track of the information you need.
Create at least one new professional networking connection per month
There's no downside to increasing the size of your professional network. You probably meet people all the time, but do you take the time to listen, grab their business card, and connect with them? Try to find at least one person per month to add to your LinkedIn connections and watch your network blossom.
Review and improve your LinkedIn profile
Speaking of LinkedIn, how does your profile look? In the professional world, LinkedIn is crucial to your overall personal brand. Just like your resume, you need to keep the information, tone, and look of it up to date. Check out some of your connections' profiles and see if they're doing anything different that positively grabs your attention. If so, tweak your page to create a similar effect.
Clean out your physical and digital file cabinets
This New Year's resolution idea can double as one for home too! Many of us have file cabinets that are filled with old papers that are not remotely relevant to our work anymore. It doesn't take long to clean them out, and you'll be glad you did. Weed through those files, recycle what you don't need, and organise the rest. This goes for your computer files, too.
Sign up to follow one relevant blog
There is a world of free information, insider tips, and great motivational writers online. Find a blog that you enjoy, whether it's specific to your industry or just someone who puts a little pep in your step and sign up to follow it. Don't know where to find one? Ask around the office. If you find one your co-workers like, it also becomes a topic for conversation. Win-win!
Find a work mentor
The right mentor can be a powerful tool to propel your career forward. Is there a person at your company — someone who is a step or two above you — who you highly respect? Don't just look up to them. Ask if he or she is willing to be your work mentor. It works best if it is a recognised relationship between the two of you. Set workplace goals together for the new year and have a little fun while you're at it.
Get a new professional headshot
If you cringe every time you look at your profile photo on LinkedIn, then consider the new year to be a great time to invest in a new one. Depending on your career goals and the type of company culture you like best, your profile photo may be casual or professional in its nature. The key is to select a photo that is high quality — at least 400 x 400 pixels, no larger than 8MB in file size, and does not exceed 20,000 pixels in height or width. Most importantly, you want a picture that truly represents who you are both personally and professionally.
Send at least one thank-you note per month
Sending a handwritten thank you is a great way to show your appreciation and professionalism. It feels good, too! Buy a box of thank-you notes that you like. Then, each month, think of someone who did something nice for you. It could have been a LinkedIn recommendation, an introduction to a valuable networking connection, a free lunch, or a small, kind gesture at the office. Even if it's not related to work, sending a thank you to your mother-in-law for the soup she made when you were under the weather will make you feel good about yourself — and that positivity will show in your work.
Join a professional organisation
Yes, professional organisations usually cost money. However, the benefits you can receive from the connections you'll make and what you can learn is often well worth the cost. Look for one that is focused on your favorite part of your career and check out any conferences they hold. A good conference can help you expand your network significantly and boost your work energy for weeks. Not sure how to find a professional association that's right for you? Start by finding out which groups your colleagues and managers are active in.
Measure your work-life balance
We all hear about work-life balance, but how do you measure it? The first step is deciding that you want to see where you are at. Then, find a good, online survey like this one to make it easy. Look over your results and maybe discuss them with your family and friends. With the survey results and the feedback of your loved ones, you can start working towards finding harmony in your work and personal lives.
Volunteer
Volunteering is a great way to positively affect the world, and it's also another way you can feel good about yourself. Find a cause that is meaningful to you and sign up to contribute. You can feed the homeless, pick up trash in a park or whatever you like. If you really want to step up your game, see if you can get your office to make an official event of it and recruit co-workers to volunteer with you.
Get one new professional certification
Is there an empty spot on your resume where you wish you could put "XXXX Certified?" Stop wishing and make it happen! This is a great idea for one of your work goals for the new year as it can advance your career. If it costs money, just think of it as an investment in your future. You can do this!
Clean out your email inbox
Just like that file cabinet, your email inbox is probably flooded with old, useless emails. But there are also some in there you can't lose. Organise your email files, sort those emails, and delete what doesn't need to be there anymore. You'll feel a little bit lighter every time you log in.
Attend one professional networking event
Networking events are a great opportunity to meet other professionals in your industry that live in your area. You get to make new connections as well as stay on top of what's happening in your field. Of course, networking events are not comfortable for everyone, so you don't have to attend them every week. But it is a good idea to put yourself out there at least once per year so you can reap the benefits of these professional gatherings.
Now that you've made your New Year's work resolutions, it's time to put on your party hat and ring in the new year!
By:  Tyler Omoth
Source: https://www.topresume.com/career-advice/17-new-years-career-resolutions-youll-be-able-to-keep